Naruto Uzumaki (うずまきナルト, Uzumaki Naruto) is a shinobi of Konohagakure. He became the jinchūriki of the Nine-Tails on the day of his birth — a fate that caused him to be shunned by most of Konoha throughout his childhood. After joining Team Kakashi, Naruto worked hard to gain the village's acknowledgement all the while chasing his dream to become Hokage. In the following years, through many hardships and ordeals, he became a capable ninja regarded as a hero both by the villagers, and soon after, the rest of the world, becoming known as the Hero of the Hidden Leaf (木ノ葉隠れの英雄, Konohagakure no Eiyū, Literally meaning: Hero of the Hidden Tree Leaves). He soon proved to be one of the main factors in winning the Fourth Shinobi World War, leading him to achieve his dream and become the village's Seventh Hokage (七代目火影, Nanadaime Hokage, Literally meaning: Seventh Fire Shadow)
Early Life
Naruto was born on the night of October 10th to Minato Namikaze (the Fourth Hokage) and Kushina Uzumaki (the second jinchūriki of the Nine-Tails). He was named after the protagonist of Jiraiya's first book, which made the Sannin his godfather. The Third Hokage made special arrangements for Minato to preserve Kushina's seal containing the Nine-Tails while she gave birth to Naruto in a remote location, escorted by midwives and Anbu. A masked man, Tobi, tracked down their location, however, killed the midwives and Anbu, and captured Naruto, forcing Minato to quickly rescue him and teleport him to a safe house.
With Minato gone, Tobi captured Kushina and released the Nine-Tails from her, using it to devastate Konoha. Minato saved Kushina and left Naruto in her care before he went to protect the village, eventually defeating Tobi and freeing the Nine-Tails from Tobi's control. Returning to Naruto and Kushina's location, Minato realised the only way to stop the Nine-Tails was to seal it within Naruto, believing that his son would someday need the fox's power to defeat Tobi when he returned. Since the Nine-Tails' chakra was too immense to seal into an infant, Minato sacrificed his soul to split the fox's chakra in half, sealing the Yin half within himself and the Yang half within Naruto. After telling Naruto how much they loved him, Minato and Kushina succumbed to their wounds from protecting their son from the Nine-Tails and passed away.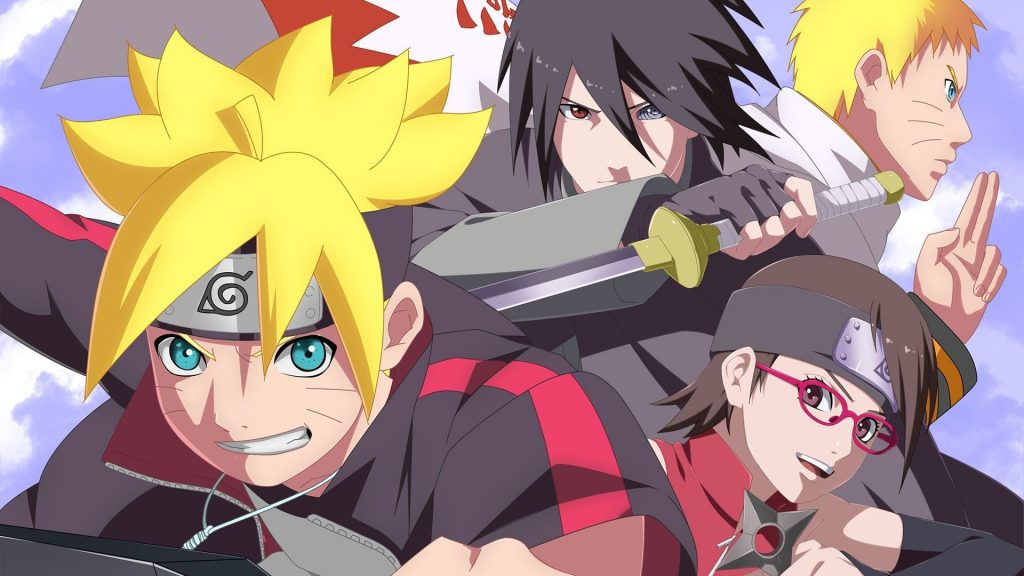 Orphaned, Naruto grew up not knowing who his parents were, receiving only his mother's surname, as Hiruzen wanted to protect Naruto from his father's enemies. Minato's dying wish that Naruto be regarded as a hero was honoured by the very few who could put aside their pain and losses caused by the disaster, while the majority of Konoha, however having no knowledge of the circumstances surround his birth, openly ostracised and resented Naruto for containing the beast that devastated the village and took many lives; some even viewed Naruto as the Nine-Tails itself. Soon, the Third Hokage forbade anyone from mentioning the Nine-Tails, hoping that the younger generation would not blindly hate Naruto as their parents did. However, Naruto's peers emulated their parents' hatred of him, despite not knowing why. This social isolation caused Naruto to crave acknowledgment, which he would gain by pulling pranks.
On the day of his enrollment in the Ninja Academy – Naruto first met Hinata Hyūga, who was being picked on by three bullies. Despite not knowing her, Naruto immediately came to her defense, but he was outnumbered and knocked unconscious, and the bullies damaged his red scarf. When Naruto awoke, Hinata thanked him for helping her and returned his scarf to him, but he let her keep it. He was unaware the girl's growing affections for him began from that moment onwards.
In the Academy, Naruto became a student of Iruka Umino, who acted as a surrogate older brother to keep him in line and help him work harder. Naruto also met his class-mate Sasuke Uchiha and tried to befriend him, since he was alone as well. Jealous of Sasuke's skills and popularity, however,he developed a one-sided rivalry in his pursuit to prove himself just as good as, if not better than, Sasuke, wishing that someday, Sasuke would accept him as an equal. Naruto also grew close with the owner of Ramen Ichiraku, Teuchi and his daughter Ayame, being welcomed as their favourite customer.
Personality
Naruto is characterised as boisterous, exuberant and unorthodox, quite similar to Hashirama Senju. He inherited his mother's verbal tic, as he ends his sentences with "Dattebayo!" (だってばよ!) when excited or frustrated. Though he responds best to competition and is not afraid to ask for assistance, Naruto is relatively naive, simple, and slow to understand principles or situations. He often requires an oversimplified analogy in order to grasp explanations, and can even forget some concepts that he himself noted earlier if he is too emotional. Naruto is aware of his faults, and admits he acts strong to mask his embarrassment and frustration about them. Despite his naivety, Naruto can be quite observant, picking up on things others miss and retaining information casually gathered through conversation.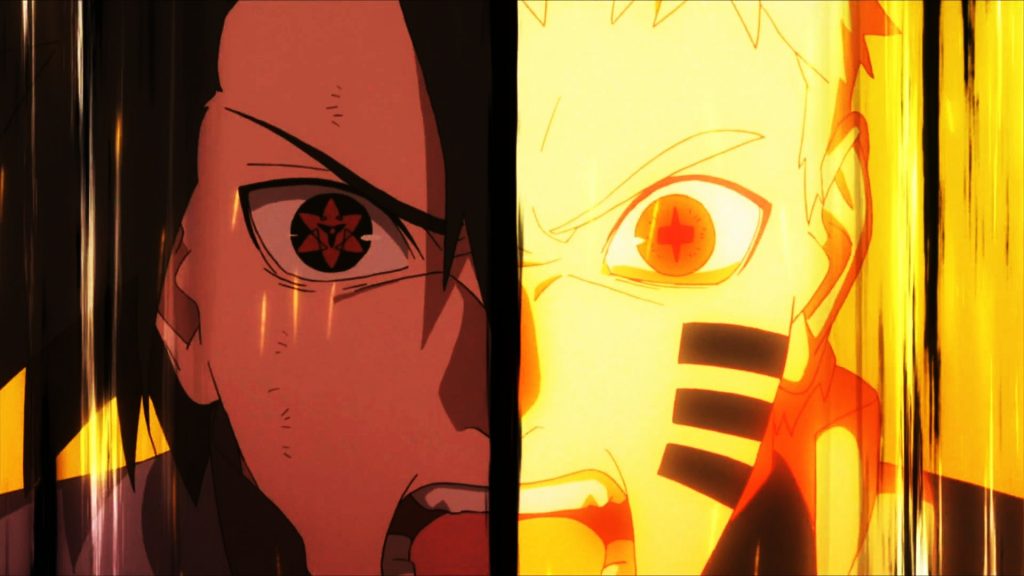 Growing up as an orphan who suffered years of hatred and social isolation by Konoha's villagers has influenced Naruto's character in a number of ways: he is heedless to formality and social standings, addressing certain people with nicknames instead of honourifics; he has picky eating habits of ramen, his favourite food; he has a perverted side that manifests as uses of the Sexy Technique or attempts to peep into women's baths; he didn't understand the real meaning of "love" and believes that loving and/or being loved by someone and ramen are both the same. Despite his quirks and the criticism they earn him, Naruto is said to have a personality that draws people to him,inspiring friendship and loyalty through acts of genuine kindness that could change a person's world view. He is thus able to build meaningful relationships that he lacked in early life; the Sage of Six Paths believes Naruto's kindness is a special gift that allows him to save Kurama from its hatred. Naruto deeply cherishes these bonds and will go to great lengths to protect them, best seen with Sasuke after his defection from Konoha. Naruto's time at the Falls of Truth revealed that a part of him hated the villagers for ostracising him, only to admire him after he saved them during Pain's Assault. This allowed Kurama to manipulate Naruto's rage until he confronted it and learned to let it go, becoming greater than what he suffered.
Another of Naruto's prominent traits is his desire for acknowledgement; his pranks around the village were for people to notice, or at least scold, him. Therefore, he dreamed of one day becoming Konoha's Hokage, the epitome of acknowledgement and respect from everyone in the village. Knowing his dream is a long, arduous and seemingly impossible path, Naruto developed his own nindō of never going back on his word. This life-long philosophy serves as the cornerstone of Naruto's great self-confidence; he believes he can accomplish any goal with enough hard work and perseverance, no matter how big the obstacle is or how long it takes to complete it. This guides him in many aspects of life besides a battle, such as his promise to Sakura of bringing Sasuke back to Konoha. Over time, his goal to be Hokage grew from a desire for acknowledgement to a desire to help and protect the people close to him, which Tobi attributed to the Will of Fire. His nindō is reinforced by his understanding that shinobi were meant to endure through hardships. His belief in hard work and perseverance made him detest people who would use insincere shortcuts to achieve their goals, as he disqualified his son from the Chūnin Exams for using the banned and unfair Kote, and expressed disgust at Momoshiki and Kinshiki Ōtsutsuki for their reliance on harvesting from Chakra Fruits to lazily gain power.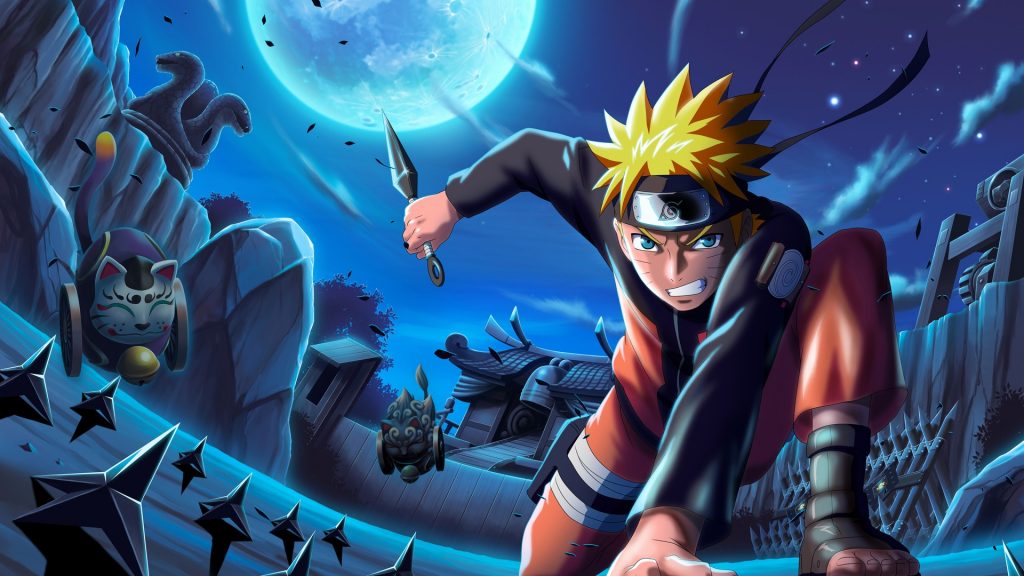 After the death of his master Jiraiya, talking to his father Minato and listening to Nagato's tragic story, Naruto grew to understand the cycle of hatred and vowed to break it in order to bring real peace to the world. To that end, his participation in the Fourth Shinobi World War is not only to protect his friends, but also to bear and erase the world's hatred all by himself. After encountering a reincarnated Itachi Uchiha, however, Naruto realises that he cannot handle everything alone and that he must allow his friends to support and fight alongside him. As he does so in war's climax, his fighting spirit inspires the Allied Shinobi Forces to join him and keep fighting to end the war as well, ultimately becoming an example for many people to admire, follow, and believe in.
Naruto first met Hinata Hyūga when they were children, where his open kindness and courageous spirit earned him her admiration, which grew into love. On his part, Naruto remained largely oblivious to Hinata's feelings for him and even considered her "weird" because of her shyness around him. However, things change during the Chūnin Exams in Part I when they began to interact more and support each other, causing Naruto to like her as a friend. In Part II, as Hinata becomes willing to risk her life to protect Naruto, he in turn sees her as a strong person despite his speechlessness at her love confession. Naruto did grow to love Hinata subconsciously, but he was never able to consciously realise it because he kept "fighting" for Sakura, which was just another way for him to compete with Sasuke. During The Last: Naruto the Movie, Naruto finally recognises the love that Hinata has always had for him, causing him to become more bashful and protective of her, just as she was for him. Realising that she alone has always had faith in him and that she has always been there for him, he reciprocates her feelings and desires to be with her for the rest of his life.
As an adult, Naruto becomes wiser and more mature, though he retains some of his negligence for honourifics. Although he finally achieves his dream of becoming Hokage, its many tasks not only overwhelm Naruto at times, but often leave him unable to spend time with his family, particularly upsetting his son Boruto. He admits that part of this stems from not having grown up with a father himself, making it difficult for him to know how to interact properly with his own children, mostly with his son. Naruto is also more responsible in his duties as Hokage and as a father: he forbids use of the Kote in the Chūnin Exams as it diminishes a shinobi's true potential; he is disappointed by Boruto's cheating in the exams and even removes his forehead protector in front of the audience after lecturing him. Nevertheless, Naruto deeply loves his family, as he creates shadow clones to tend to them while he's busy, protects them in times of danger, spends time with them when he can, and expresses pride in his children's successes. He in fact adopts Hiruzen's philosophy that everyone in the village is his family, believing that true relationships are made up of love rather than blood relations.His refusal to give his son any special treatment due to their blood-relationships, along with the insistence that the boy professionally addresses him as "Seventh" or "Hokage" while in the office, is a testament of Naruto's lack of bias and prejudice.