Iron Man is a fictional superhero appearing in American comic books published by Marvel Comics. The character was co-created by writer and editor Stan Lee, developed by scripter Larry Lieber, and designed by artists Don Heck and Jack Kirby. The character made his first appearance in Tales of Suspense #39 (cover dated March 1963), and received his own title in Iron Man #1 (May 1968).
A wealthy American business magnate, playboy, and ingenious scientist, Anthony Edward "Tony" Stark suffers a severe chest injury during a kidnapping. When his captors attempt to force him to build a weapon of mass destruction, he instead creates a mechanized suit of armor to save his life and escape captivity. Later, Stark develops his suit, adding weapons and other technological devices he designed through his company, Stark Industries. He uses the suit and successive versions to protect the world as Iron Man. Although at first concealing his true identity, Stark eventually declared that he was, in fact, Iron Man in a public announcement.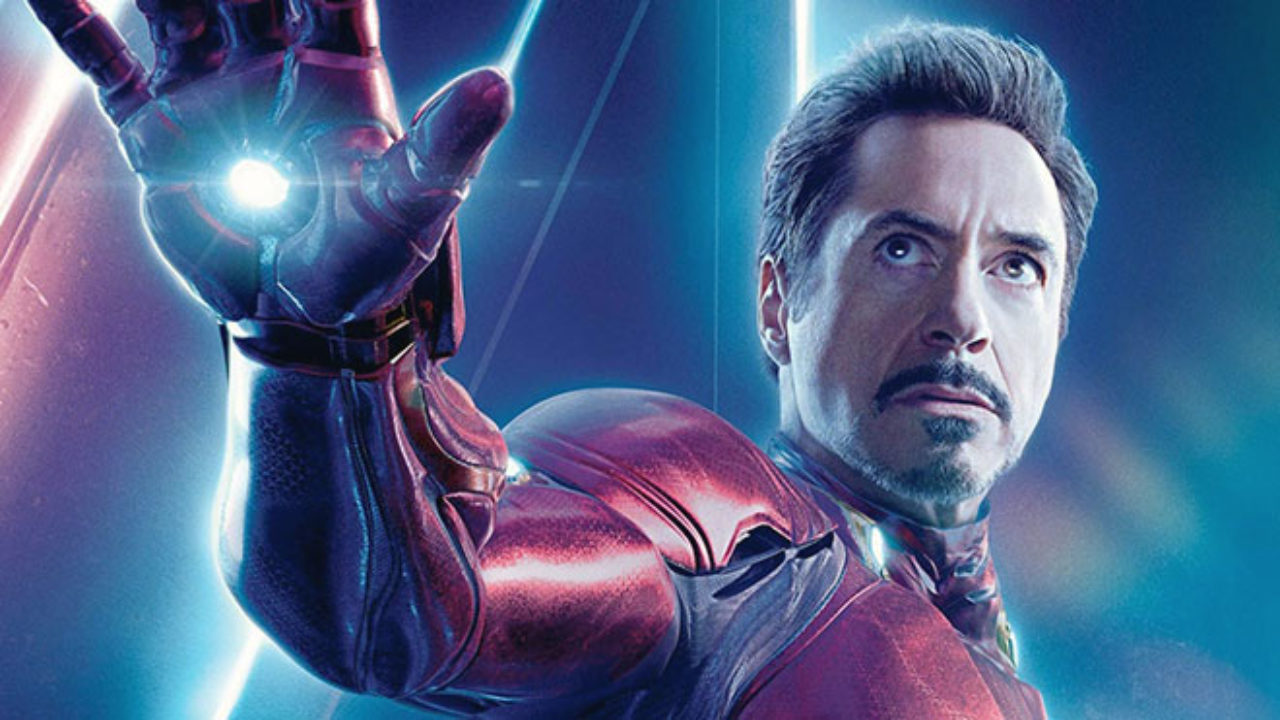 Initially, Iron Man was a vehicle for Stan Lee to explore Cold War themes, particularly the role of American technology and industry in the fight against communism. Subsequent re-imaginings of Iron Man have transitioned from Cold War motifs to contemporary matters of the time.
Throughout most of the character's publication history, Iron Man has been a founding member of the superhero team the Avengers and has been featured in several incarnations of his own various comic book series. Iron Man has been adapted for several animated TV shows and films. The Marvel Cinematic Universe character was portrayed by Robert Downey Jr. in the Marvel Cinematic Universe films Iron Man (2008), The Incredible Hulk (2008) in a cameo, Iron Man 2 (2010), The Avengers (2012), Iron Man 3 (2013), Avengers: Age of Ultron (2015), Captain America: Civil War (2016), Spider-Man: Homecoming (2017), Avengers: Infinity War (2018), Avengers: Endgame (2019), and will reprise his role in Black Widow (2020).
Iron Man was ranked 12th on IGN's "Top 100 Comic Book Heroes" in 2011 and third in their list of "The Top 50 Avengers" in 2012.
Anthony Edward Stark is the son of wealthy industrialist and head of Stark Industries, Howard Stark, and Maria Stark. A boy genius, he enters MIT at the age of 15 to study engineering and later receives master's degrees in engineering and physics. After his parents are killed in a car accident, he inherits his father's company.
Stark is injured by a booby trap and captured by enemy forces led by Wong-Chu. Wong-Chu orders Stark to build weapons, but Stark's injuries are dire and shrapnel is moving towards his heart. His fellow prisoner, Ho Yinsen, a Nobel Prize-winning physicist whose work Stark had greatly admired during college, constructs a magnetic chest plate to keep the shrapnel from reaching Stark's heart. In secret, Stark and Yinsen use the workshop to design and construct a suit of powered armor, which Stark uses to escape. During the escape attempt, Yinsen sacrifices his life to save Stark's by distracting the enemy as Stark recharges. Stark takes revenge on his kidnappers and rejoins the American forces, on his way meeting a wounded American Marine fighter pilot, James "Rhodey" Rhodes.
Back home, Stark discovers that the shrapnel fragment lodged in his chest cannot be removed without killing him, and he is forced to wear the armor's chestplate beneath his clothes to act as a regulator for his heart. He must recharge the chestplate every day or else risk the shrapnel killing him. The cover story that Stark tells the news media and general public is that Iron Man is his robotic personal bodyguard, and corporate mascot. To that end, Iron Man fights threats to his company (e.g., Communist opponents Black Widow, the Crimson Dynamo, and the Titanium Man), as well as independent villains like the Mandarin (who becomes his greatest enemy). No one suspects Stark of being Iron Man, as he cultivates a strong public image of being a rich playboy and industrialist. Two notable members of the series' supporting cast, at this point, are his personal chauffeur Harold "Happy" Hogan, and secretary Virginia "Pepper" Potts—to both of whom he eventually reveals his dual identity. Meanwhile, James Rhodes finds his own niche as Stark's personal pilot, ultimately revealing himself to be a man of extraordinary skill and daring in his own right.
The series took an anti-Communist stance in its early years, which was softened as public (and therefore, presumably, reader) opposition rose to the Vietnam War. This change evolved in a series of storylines featuring Stark reconsidering his political opinions, and the morality of manufacturing weapons for the U.S. military. Stark shows himself to be occasionally arrogant, and willing to act unethically in order to 'let the ends justify the means'. This leads to personal conflicts with the people around him, both in his civilian and superhero identities. Stark uses his vast personal fortune not only to outfit his own armor, but also to develop weapons for S.H.I.E.L.D.; other technologies (e.g., Quinjets used by the Avengers); and the image inducers used by the X-Men. Eventually, Stark's heart condition is resolved with an artificial heart transplant.
source : wikipedia.org